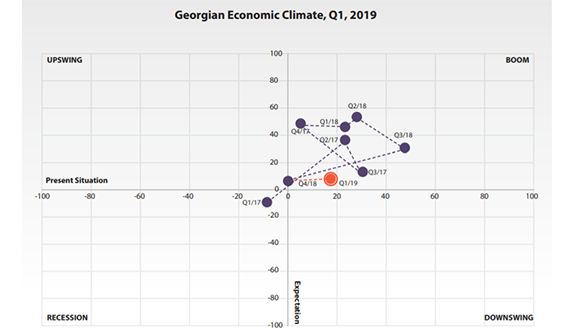 The ifo Institute is one of the leading economic research institutes in Europe, and publishes its World Economic Survey (WES) on a quarterly basis.

The Ifo World Economic Survey is designed to give an accurate picture of the current economic situation and forecasts for important industrial, emerging and developing economies.

The survey is based on qualitative information, namely the judgments and expectations of experts. Georgia's economic situation was assessed by asking representatives of the public and private sectors in Georgia on current economic developments.

PMCG is a regional partner of the ifo Institute.

In November 2017, ifo published its World Economic Survey for the third quarter of 2017. In the report, among other countries, Georgia's current economic situation was assessed and predictions were made.

According to the ifo World Economic Survey (November 2017):


The economic climate indicator for Georgia improved compared to the previous quarter;
Forecasted GDP growth for 2017 compared to the forecast from the previous quarter increased from 4.2% to 4.9%;
The expected inflation rate for 2017 is 5.7%, while for 2022 experts anticipate the inflation rate to be 4.9%;
Georgian experts expect short-term interest rates to rise and the Georgian Lari to depreciate in the next six months;
Georgian experts expect an increase in both import and export volumes for the next six months and the trade balance is anticipated to improve.

For the full ifo World Economic Survey report use the following link: https://www.cesifo-group.de/DocDL/WES_4_17.pdf